You're going to meet your sweet baby very soon! I'm so excited for you as you embark on this next chapter for your family. A newborn photography session is a perfect way to celebrate and document this incredible moment. My Houston Heights newborn photography sessions usually occur within two weeks of your baby's birth, although some moms choose to wait until their baby is six weeks, and that is ok too!. Those first few weeks are so busy that the last thing you need is to worry about what to wear for your newborn session.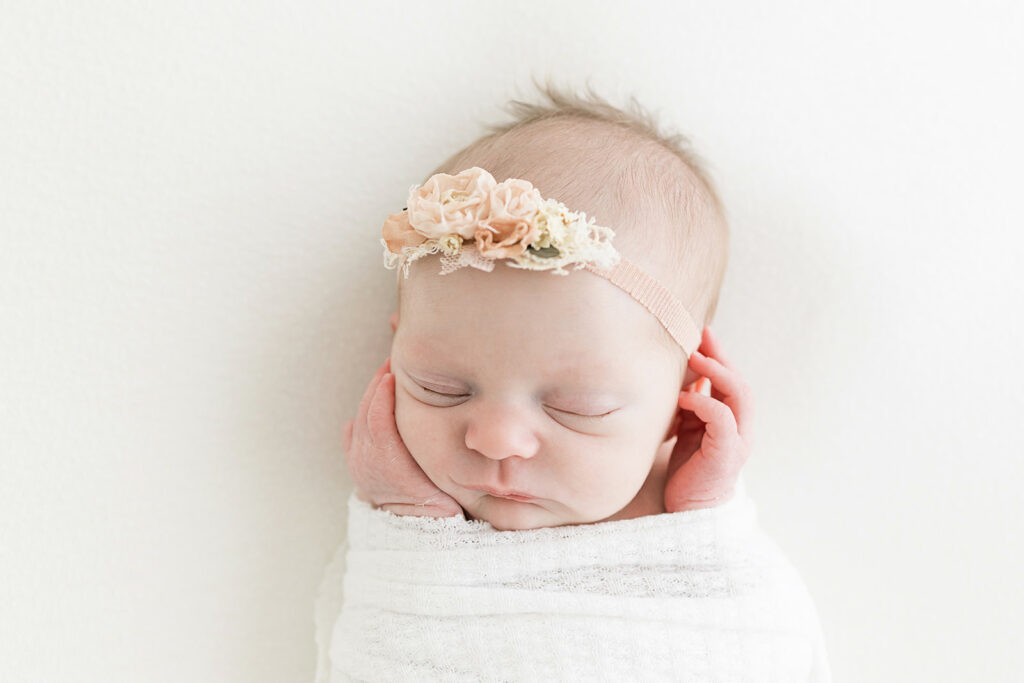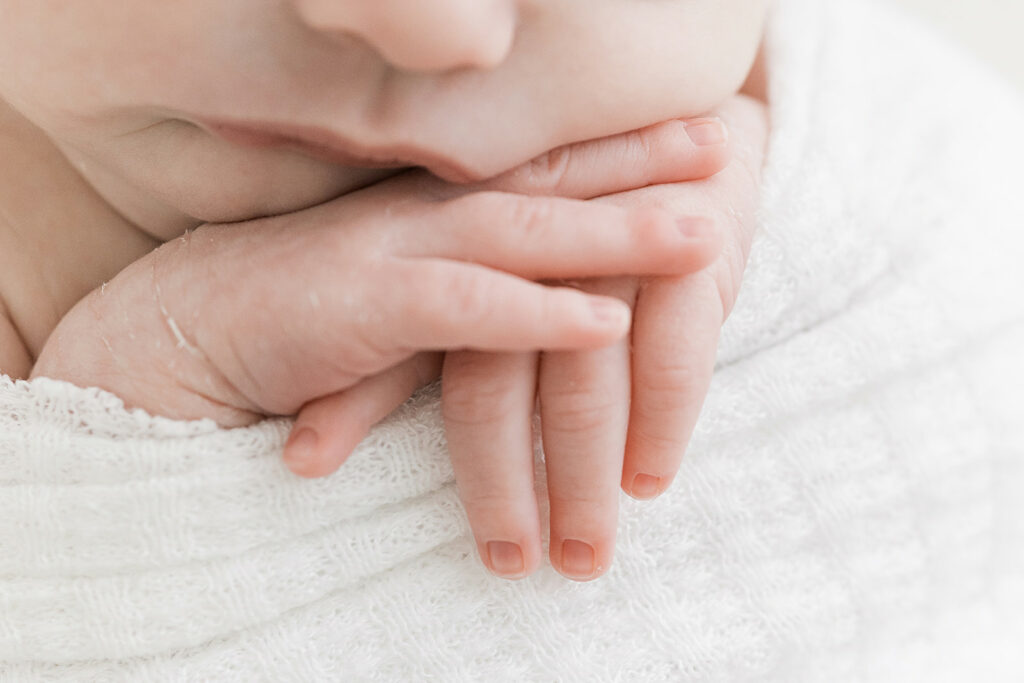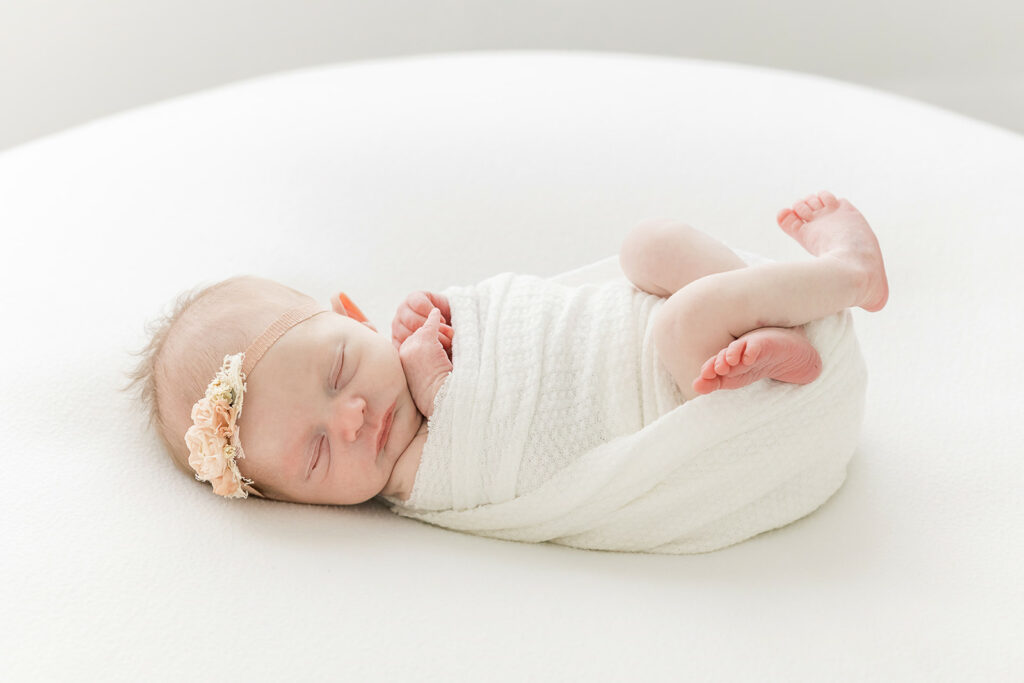 Deciding what to wear for your newborn photography session shouldn't be stressful. Below are my best tips on choosing something comfortable and beautiful to wear for your session and more about how full-service photography takes care of this for you.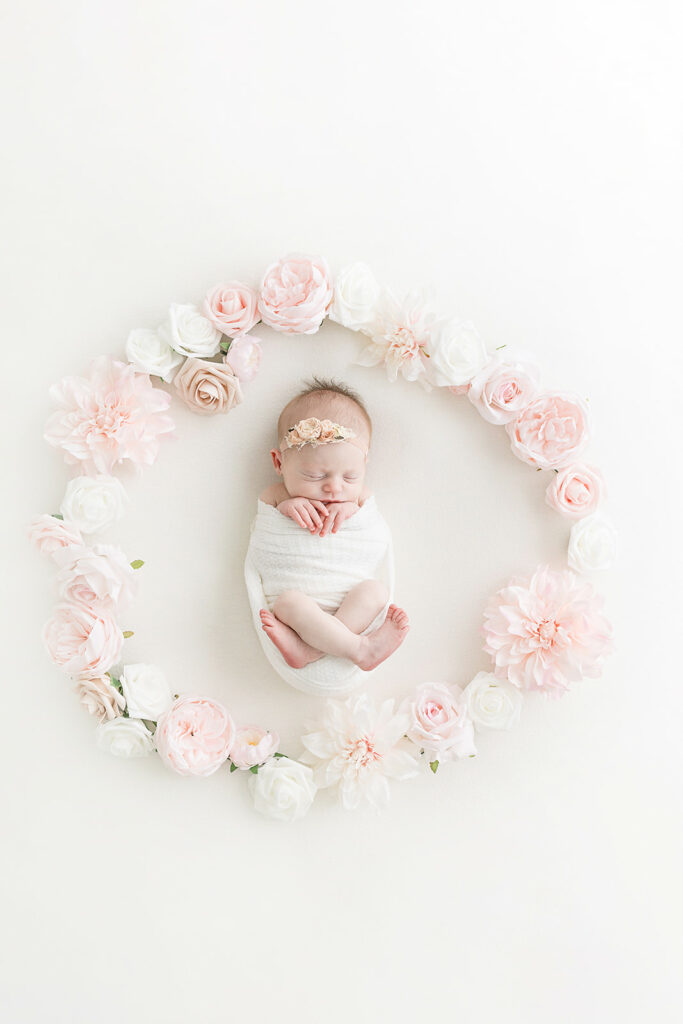 What to Wear for Your Newborn Photos
Comfortable, Yet Stylish Dresses – You just had a baby, so let's find a dress that complements your amazing postpartum body while still giving you beautiful style. My client wardrobe is carefully curated with dresses that I have hand-picked to be comfortable and flattering. You deserve to look and feel beautiful during your session.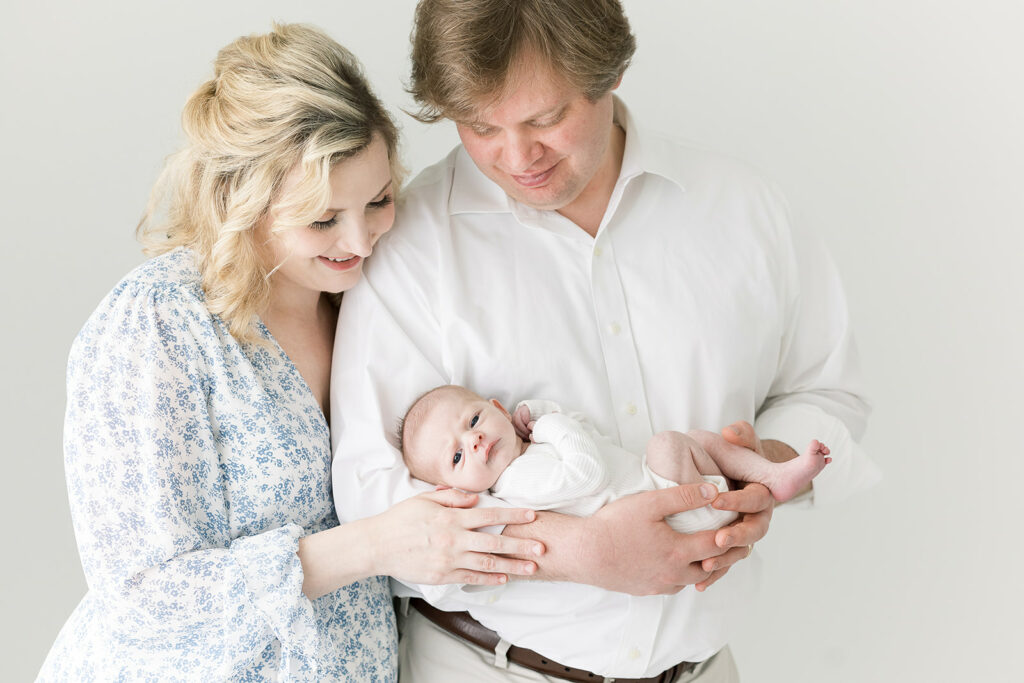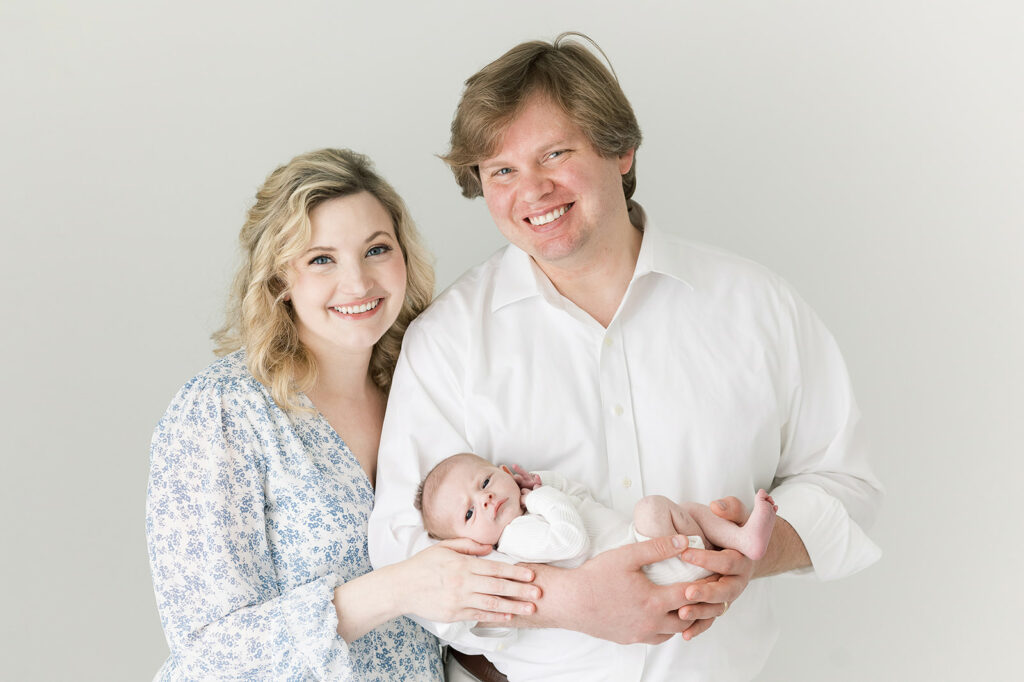 Classic over Trendy – These portraits will hang in your home for many years. Choose a dress that is timeless over choosing something super trendy.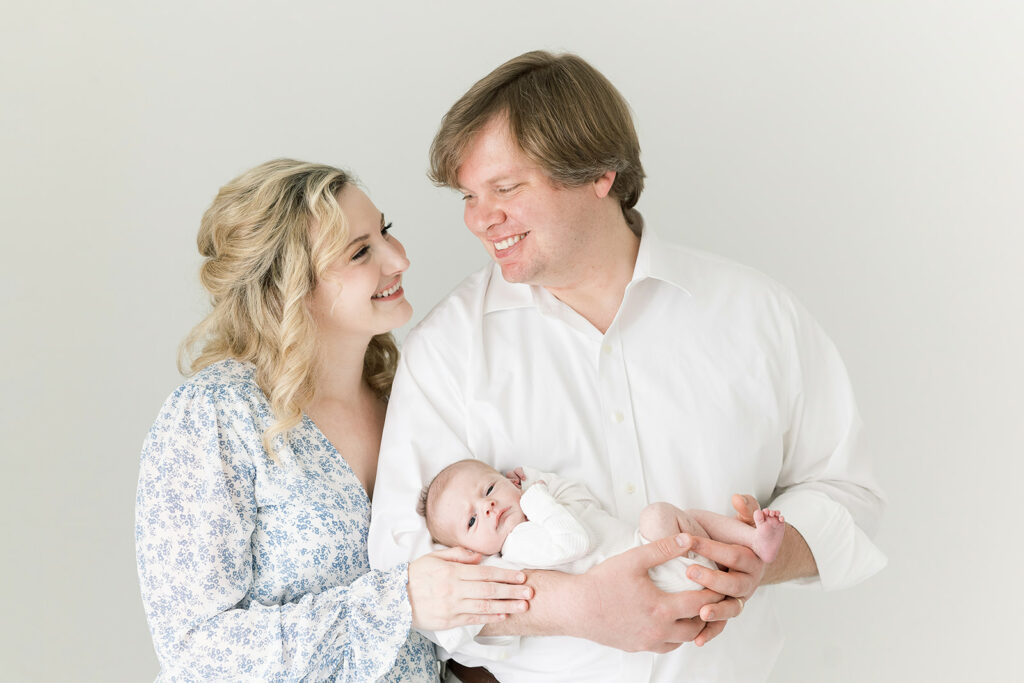 Lean on Neutral Colors – Neutral colors such as creams, white, light pinks, light blues, and light greens photograph well and will give your portraits a timeless look. We want the first thing you see in your photos to be your love and connection with your new baby, not your clothing, and neutral colors keep the focus on your love for your baby and off your clothes.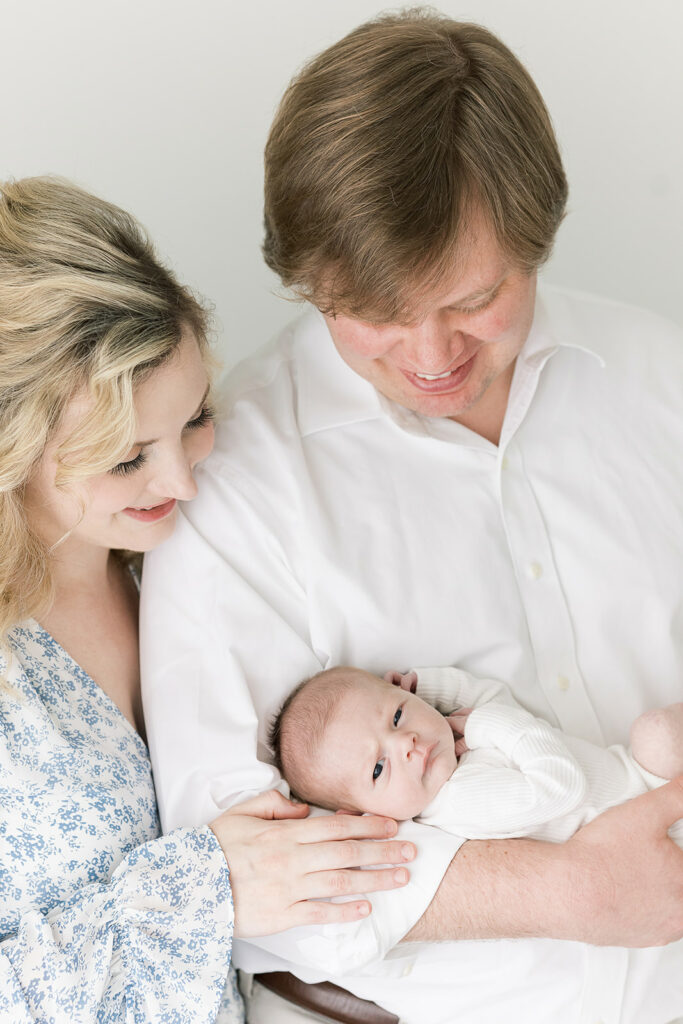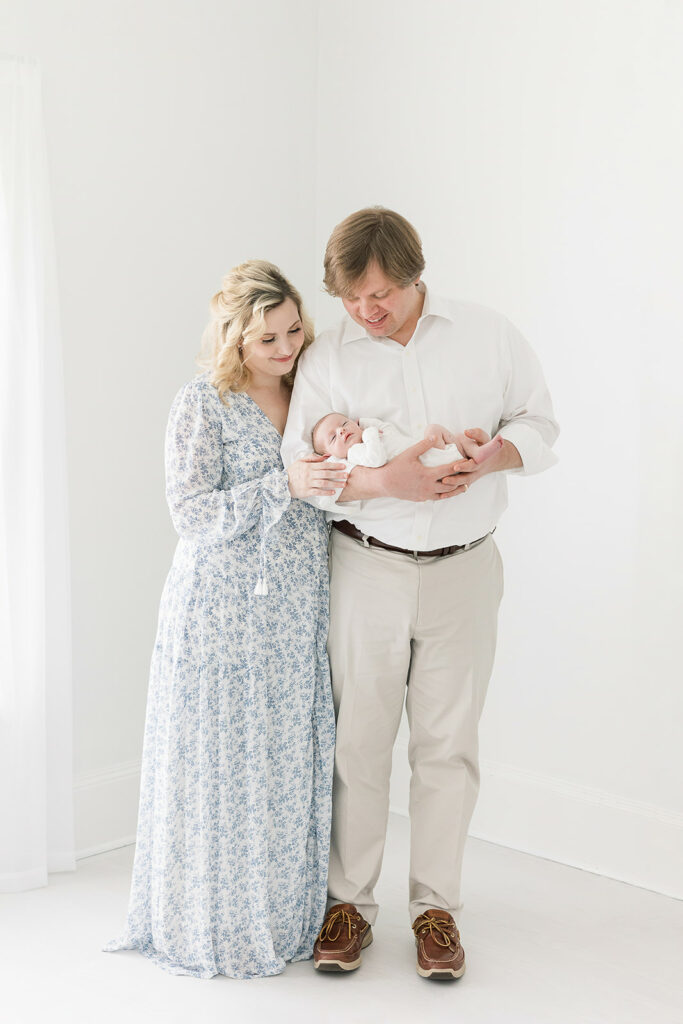 Avoid Loud Patterns and Bright Colors – I love soft floral patterns and lace but tend to steer clients away from loud patterns or bright colors as those will distract from your beautiful family.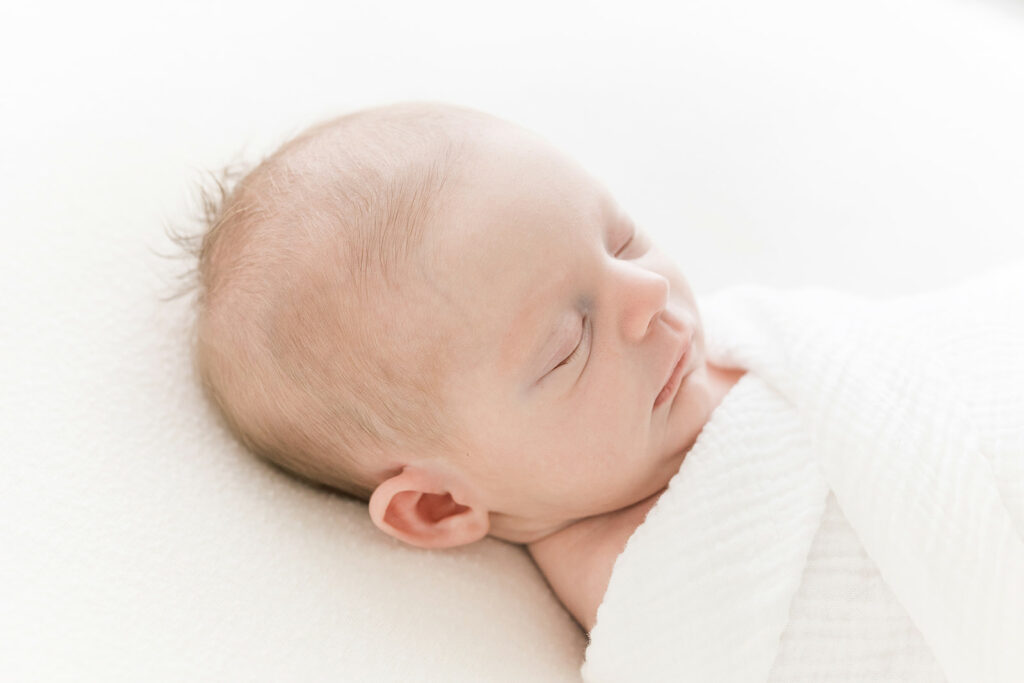 Minimal Accessories – Keep the accessories to a minimum so the focus is all on your glowing expressions. Choose stud earrings over dangling ones, and don't worry about shoes! Barefoot is perfect.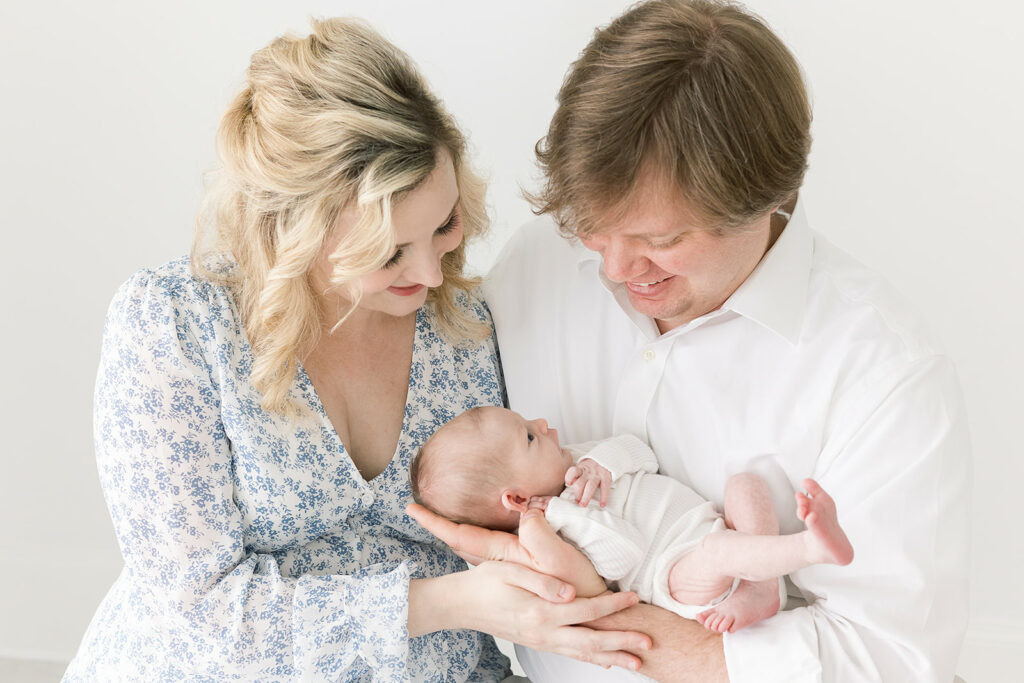 Including Heirloom Accessories/Items – Some clients come to me wanting to incorporate an heirloom accessory such as a necklace, hair piece, or other jewelry pieces. I absolutely love to do this! The locket that this sweet baby girl is holding is very special to mom, because her father, who has passed away, gave it to her for her 21st birthday. So glad we could incorporate her dad in this way.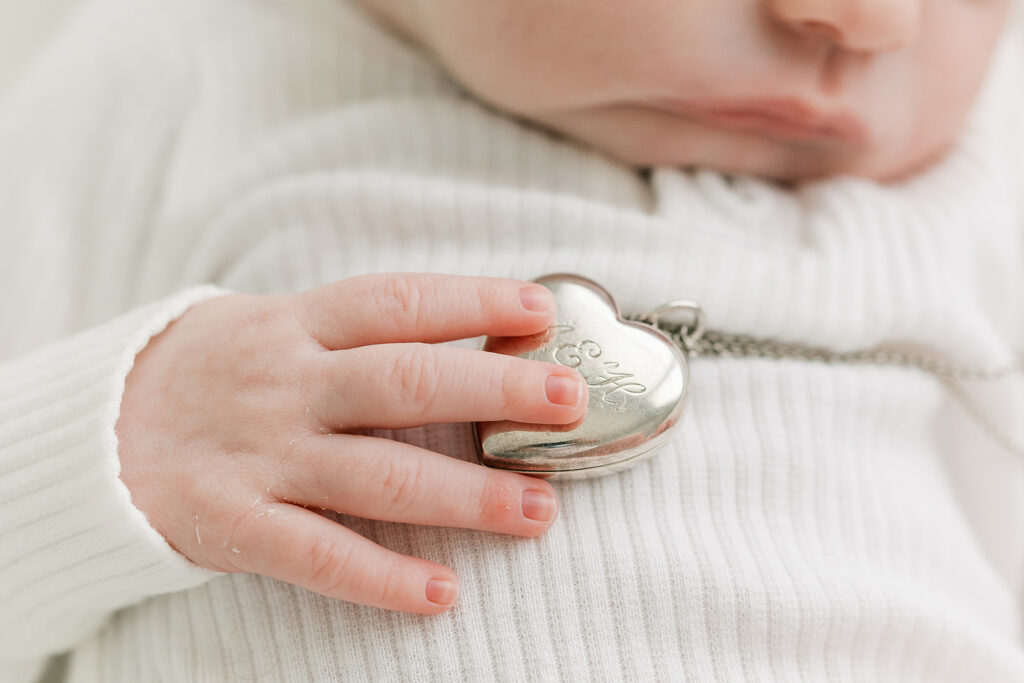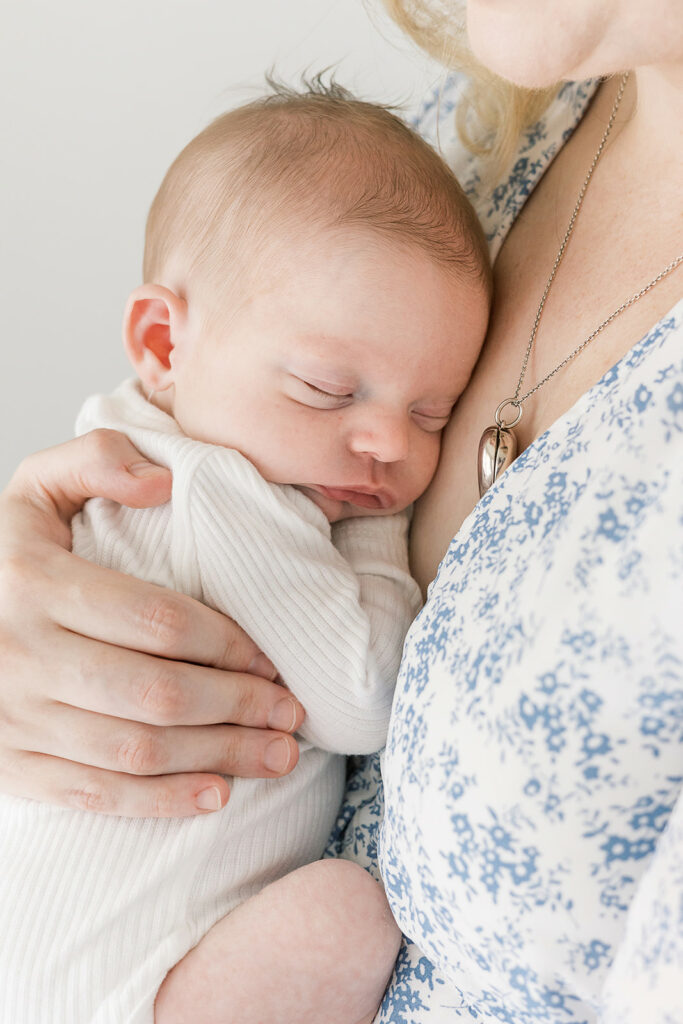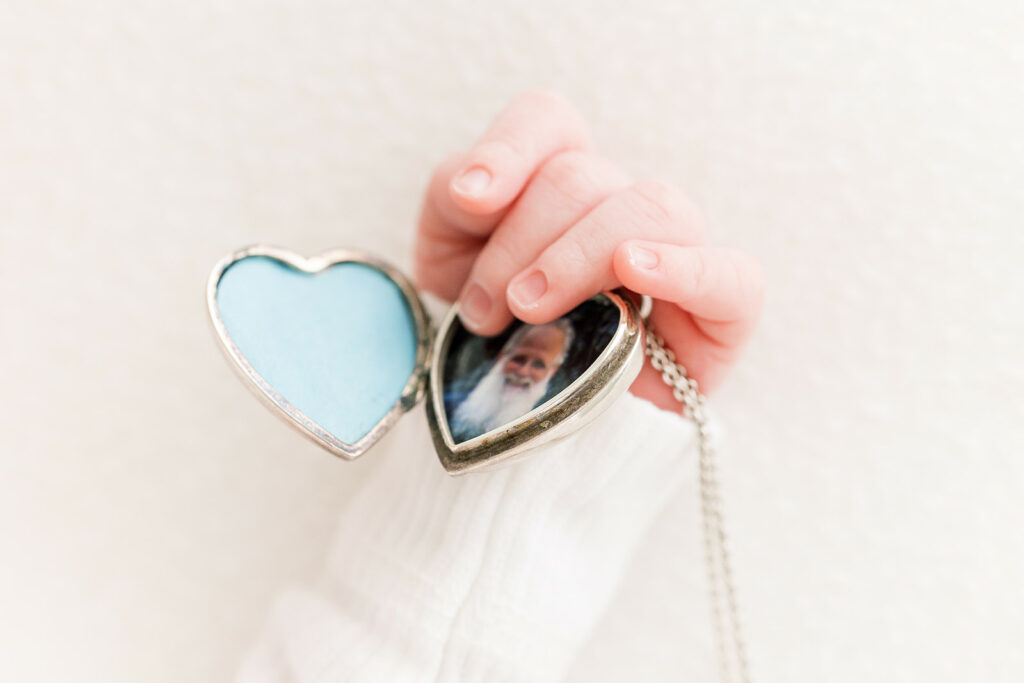 Hair and Makeup – You will likely be sleep-deprived after having a baby. My newborn photography clients love to receive professional hair and makeup before their session. My hair and makeup artist is skilled at making a tired mom look like she received a full night's sleep. Moms always love being pampered and feel beautiful during their session.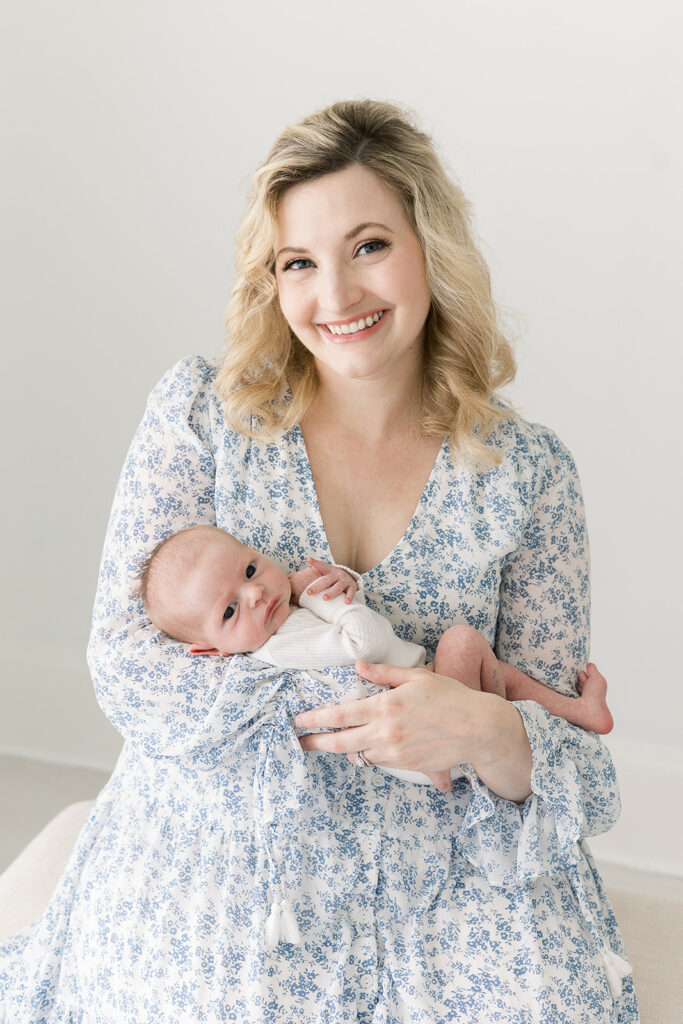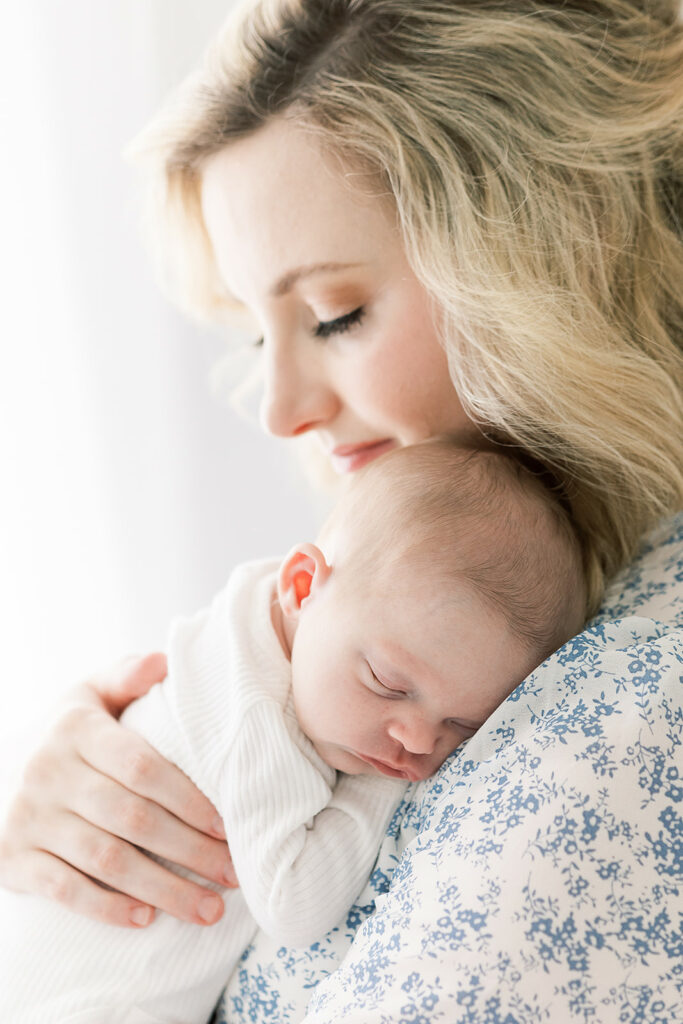 What Should Your Husband Wear for Your Newborn Photography Session?
Are you wondering what your husband should wear for the newborn session? You really can't go wrong with khakis and a solid collared shirt. This will photograph well, and he probably already has these in the closet. I also have some great henley men's sweaters in my client wardrobe that many dads take advantage of!
What Should My Newborn Wear?
Less is more! I love using simple wraps for newborns to soak in every inch of their sweetness. I have beautiful neutral newborn wraps and accessories for us to use during the session. There is no reason to bring anything to the session unless you have an heirloom blanket that you would like to use.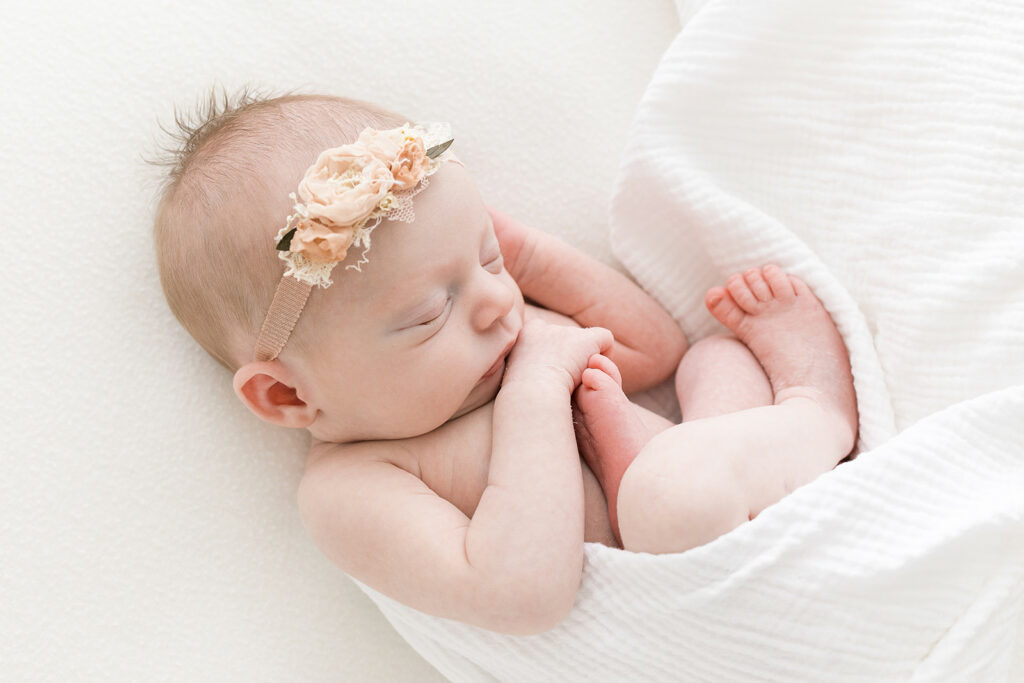 Houston Heights Full-Service Newborn Photography
You already have enough on your plate. The last thing you need to worry about is finding something to wear for your newborn photography session. That's why I love offering a full-service photography experience for my clients. Let me take care of your wardrobe for you. My growing client closet has dresses in all styles, colors, and sizes to accommodate every mama.
Every newborn photography session includes session styling, wardrobe, hair and makeup, session experience, and custom framing.
Please send me a message with any questions or to schedule your consultation!