Welcoming your second baby brings significant changes to your entire family! Your family has grown, and now your older child has the title of big brother/sister. Newborn photos that include any older children will document the start of their precious sibling bond. As a mom of three, I know how important getting the sweet sibling image is.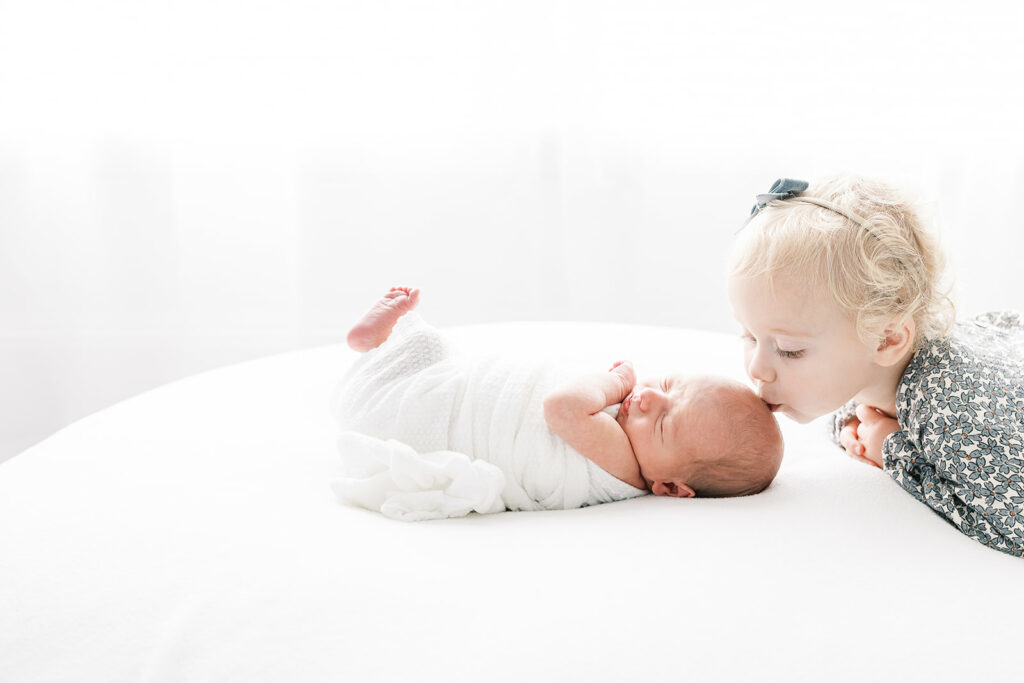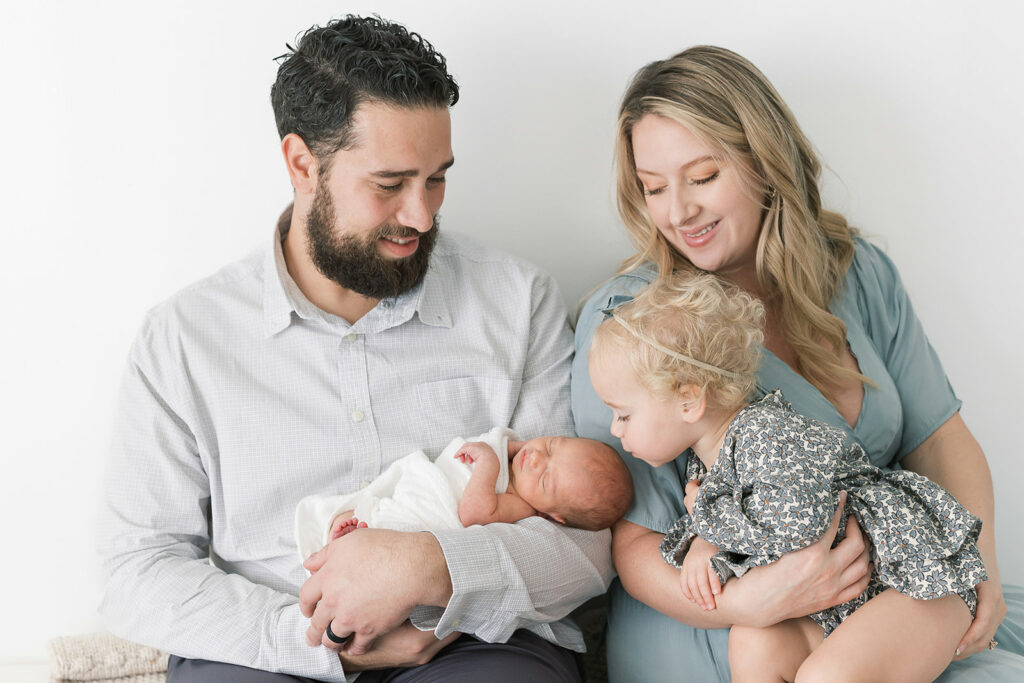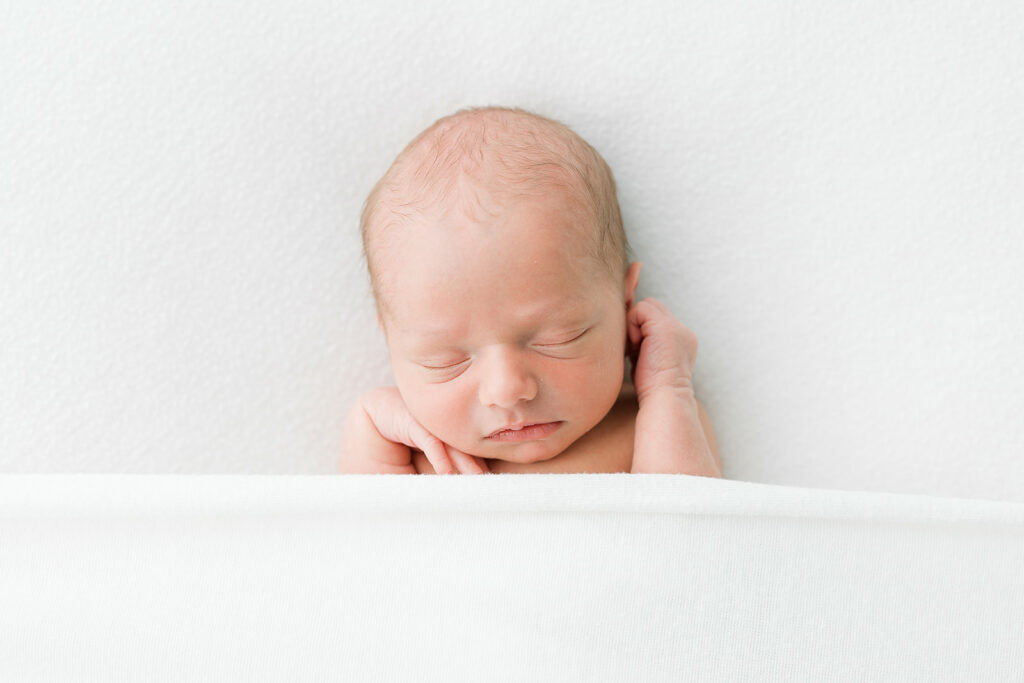 Here are my top 5 tips on including your toddler during the newborn photos!
5 Tips to Include Toddlers and Older Siblings During Newborn Photos
1. Relax and Let Them be Little – The more relaxed mom and dad are, the more comfortable your toddler will be. Please don't worry about your energetic toddler during the session. As a mom of three and an experienced photographer, I can handle almost anything during the session. We'll get your dream images. Even when it feels like chaos, we will still create magic! When parents feel tense and stressed, our littles feed off our energy. Let go of any critical remarks such as too hard, be careful, don't do that, and instead fill their cup with lots of love and adoration. Kids love hearing things like, you're the best big sister/brother, you give great hugs and kisses, and You are doing fantastic!
 We want to encourage and praise them constantly throughout the newborn session. I will, of course, be doing that through the session, but compliments from Mom and Dad mean so much more to your littles.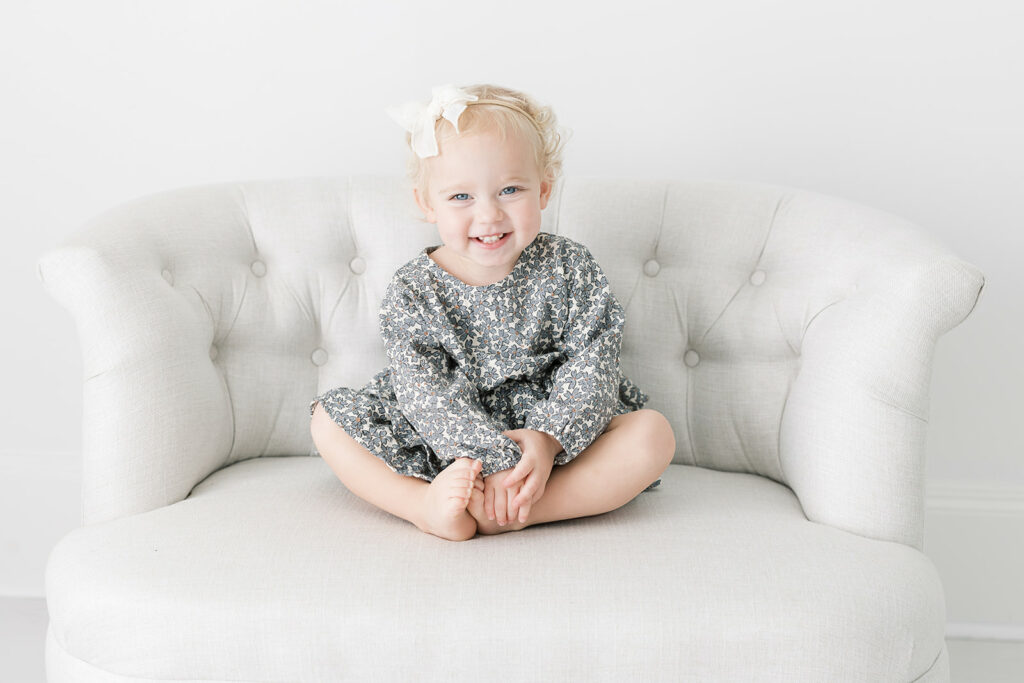 2. Have them Arrive Later – Since mom gets pampered with hair and makeup in the studio while I photograph your newborn, have dad take the kids to their favorite breakfast! Chic-fil-A is always a win in my family. This helps your toddler get to do something special with dad and ensures that dad and toddler/child arrive with full bellies. 
If your child arrives hungry and has to eat before the session, they often return to their snacks, and it can be tough to get them to separate from their snacks to take pictures.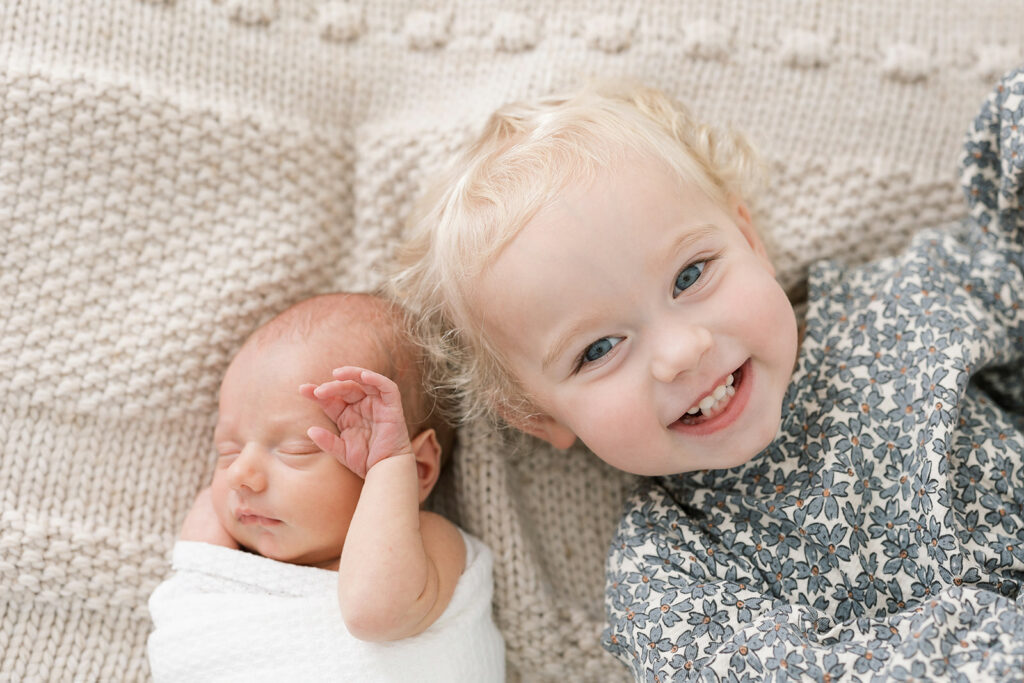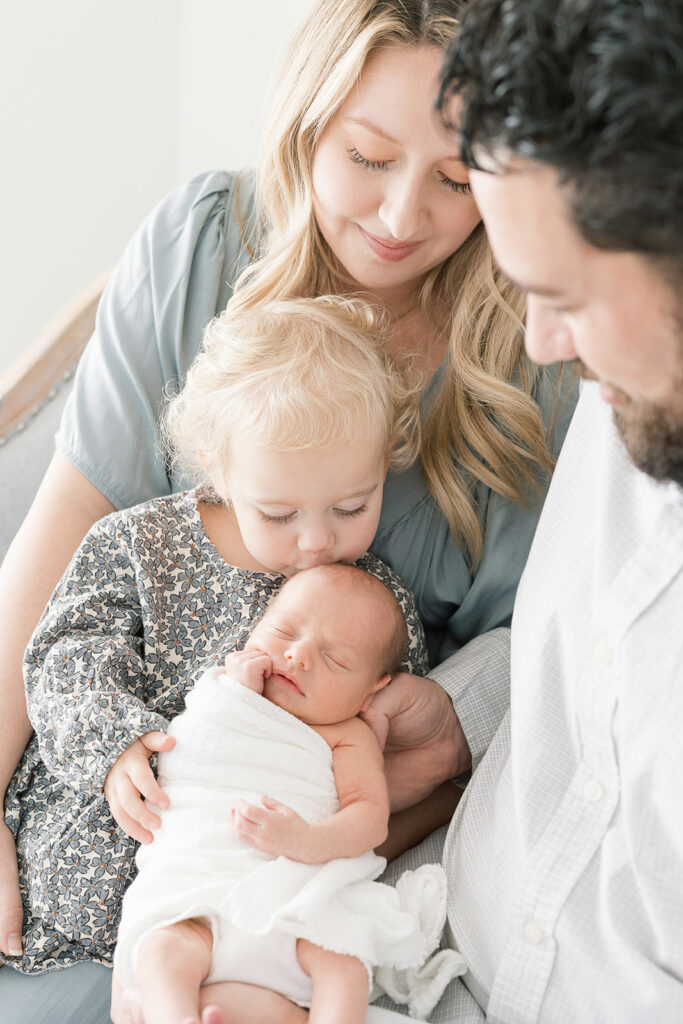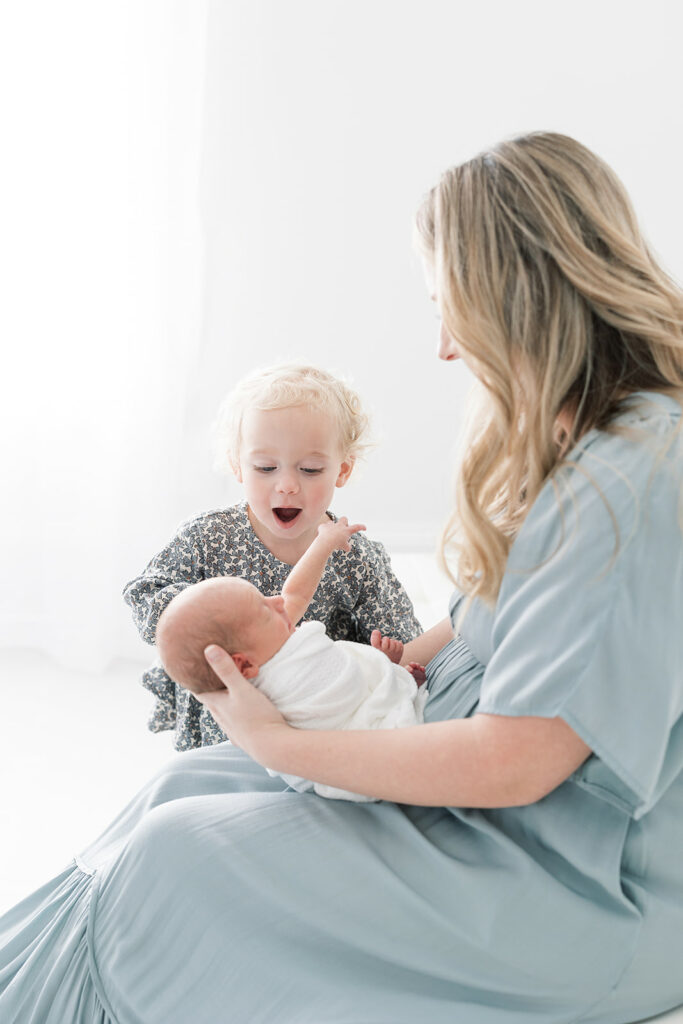 3. Help Them Feel Included – Welcoming a new sibling is a big transition for your toddler. Every toddler handles this transition differently – trust me, I know! We'll ensure your toddler knows how important and special they are during the session so they feel like they are part of this beautiful celebration. I love to get down on their level and connect with them so they understand that I'm there to photograph them too! This session isn't just about your newborn, it is about celebrating your older kids and their new role as big brother/sister. I always get individual photos of each of your older kids too! Our newborn sessions are not just newborn photography sessions but family photography sessions.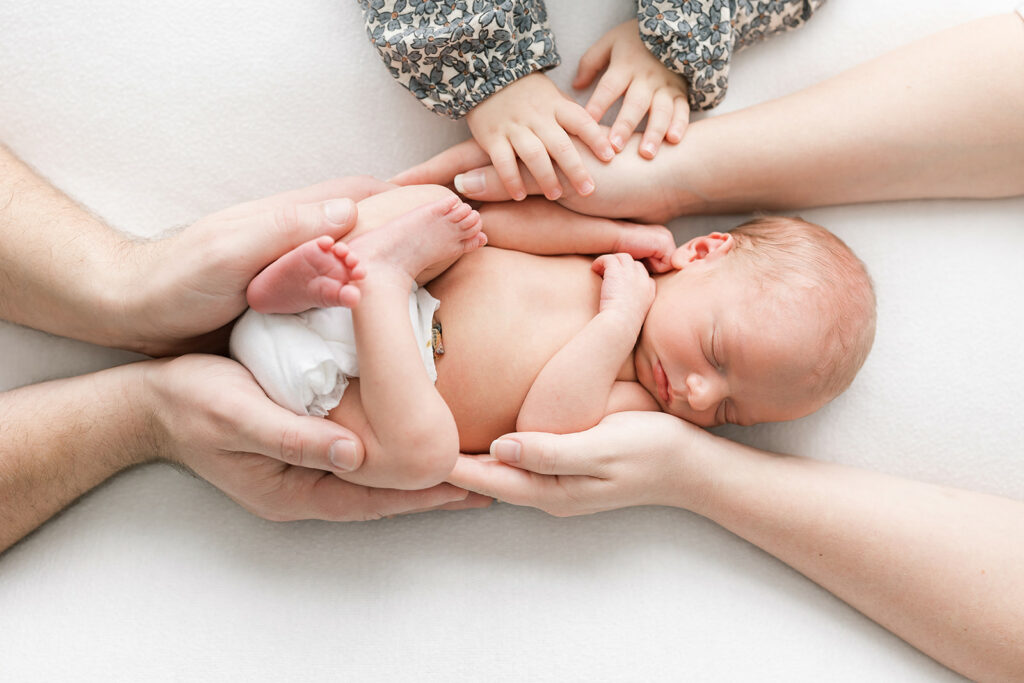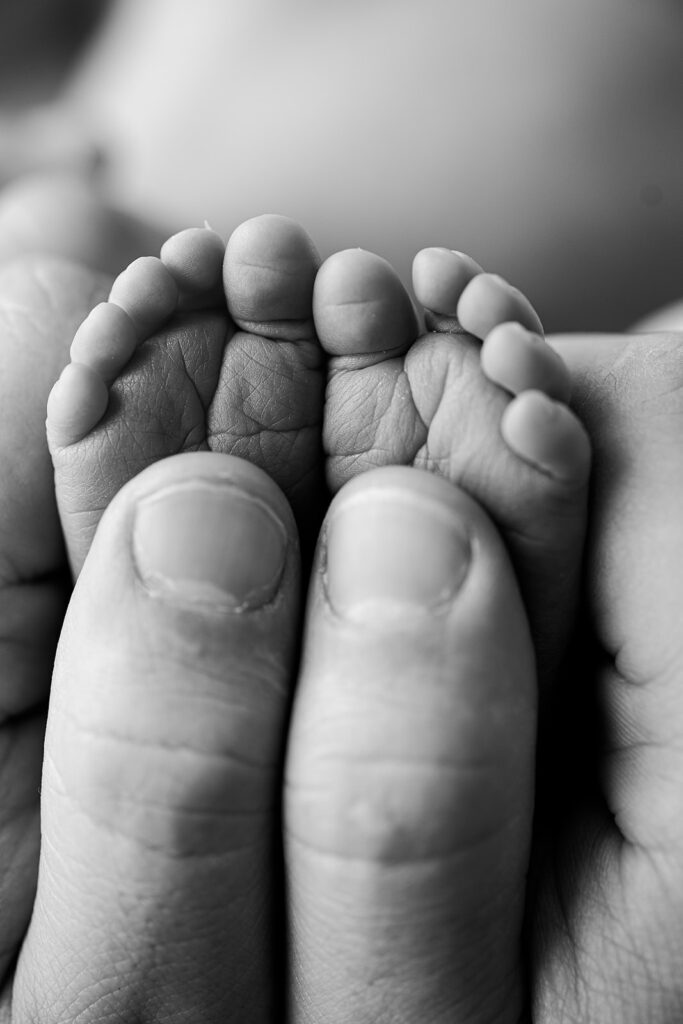 4. Lots of Rest the Night Before – Having a new baby brings many changes and, often, lots of visitors. Ensure that your toddler or child has a regular schedule the night before photos and gets plenty of rest so they are ready for their session.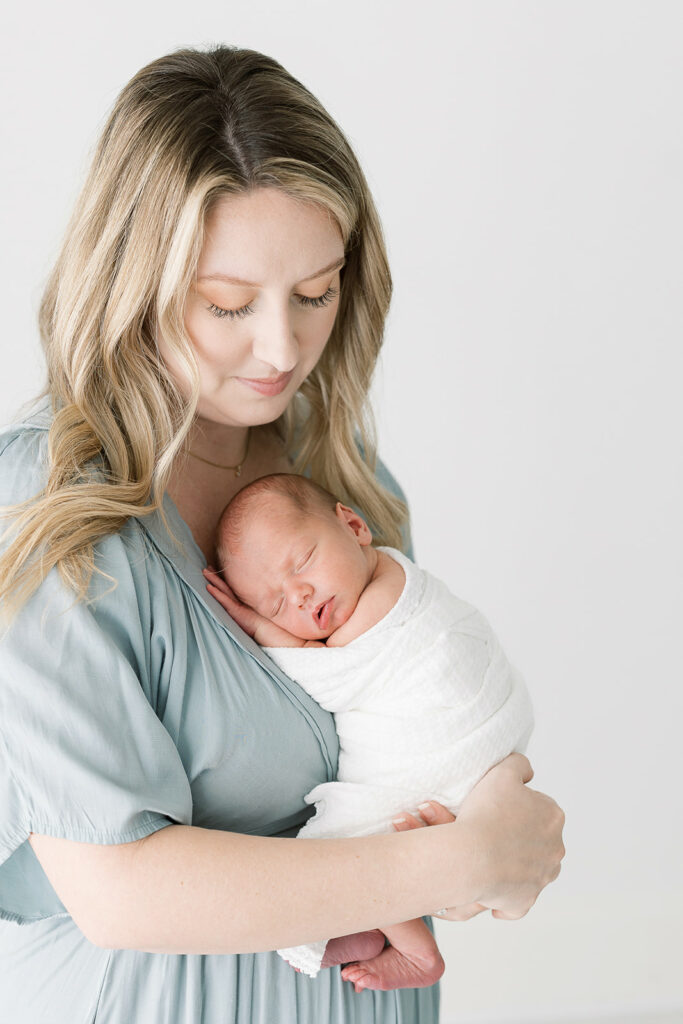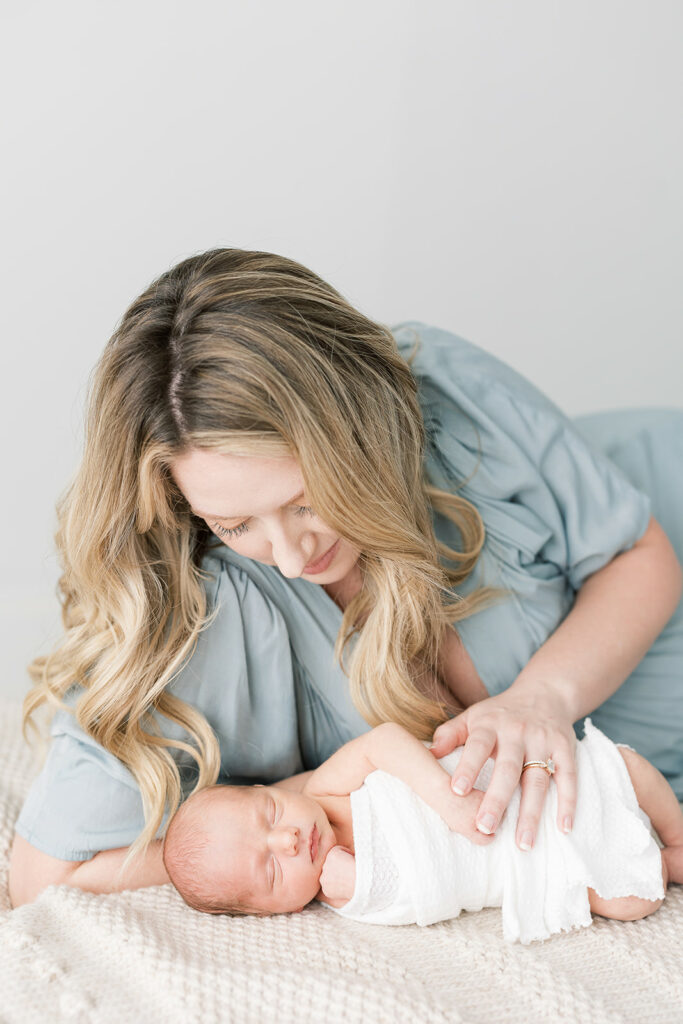 5. Bribes as a Last Resort- When necessary, I use marshmallows or fruit snacks to bribe your toddler. Once we get treats out, it is hard to get kids to focus on anything else. So, these are used as a last resort, but often we can use them to create the most beautiful images. I always ask ahead of time if it ok with parents before giving out snacks to kids.
Not only am I a mom of three, but I also used to work at Texas Children's Hospital. I have over 15 years of experience working with children and toddlers. I expect them to be a little wild and crazy. This is normal! I will do everything I can to make the session fun for your child. We may spin, jump, dance, and do a lot of giggling. Trust me, I can handle your wild kid and create beautiful images for your family.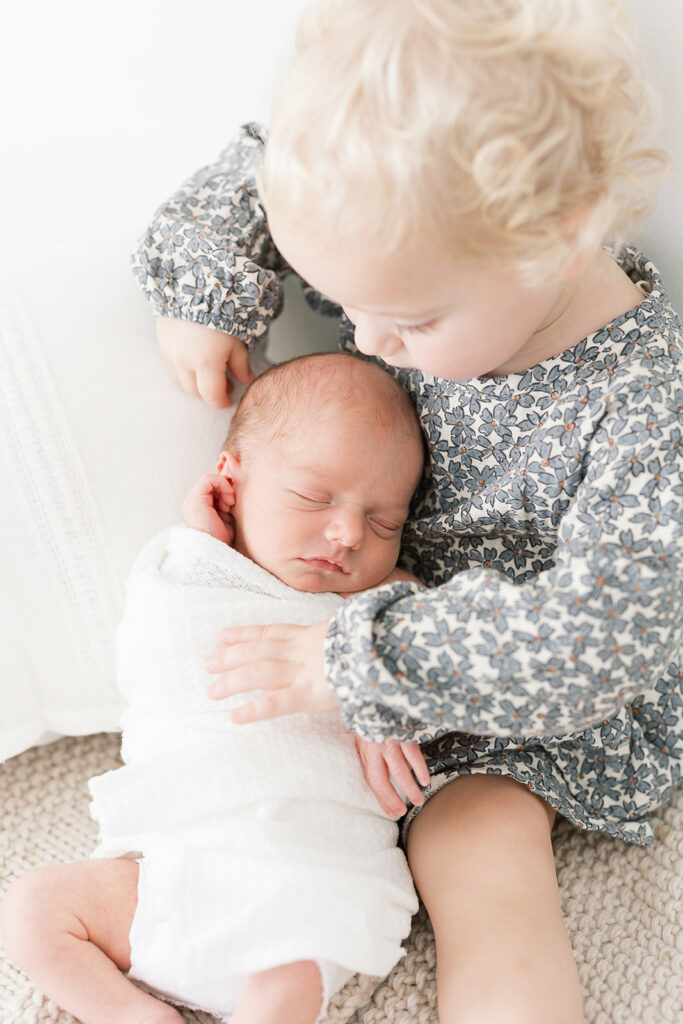 Houston Heights, TX Newborn Photographer
You deserve a peaceful and memorable newborn session experience. Once you and your family step into my Houston Heights studio, you can trust that I have everything taken care of for you. My full-service newborn photography sessions include session planning, wardrobe, hair and makeup for mom, laid-back sessions, and easy image reveal and ordering. Let me take care of all the details for you, so you can get back to enjoying your amazing family.
If you have any questions or wish to schedule a call, please send me a message here.